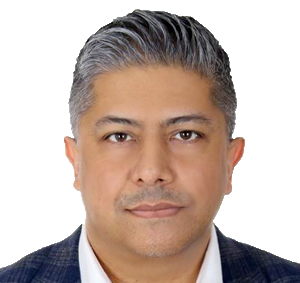 Salim was very effective in delivering huge business value. He quickly built strong relationships and a deep understanding of business requirement, then built and led a multi-talented team to develop an enterprise architecture that is still producing dividends.
Tibbs Pereira
Microsoft Corporation
Thank you so much for giving us TOGAF training, it was really fantastic, very practical, thorough and covered with excellent examples and tailoring approach for enterprise architects to meet business needs.
Yogesha Ramanna
Accenture UK
Salim Sheikh
ENTERPRISE / SOLUTION ARCHITECT
Salim is a leader in our UK Enterprise Architecture team, able to provide the full range of training, EA transformation and EA advisory / consulting services.
Professional Experience
Salim is an expert in the theory and practical application of TOGAF. A trusted CxO Adviser and Non-Executive Director, he has a reputation for parachuting into organizations and quickly establishing a plan for success.
He was an associate partner at Infosys, and has held senior interim CxO level roles in leading organizations in the UK, Middle East and Australia, including Aer Lingus, ASDA, BP, Virgin Atlantic, Ecclesiastical, O2, McLaren and the Royal Botanical Gardens.
Education and Training
Alumni member of the CIO Academy (Said Business School, Oxford University)
TOGAF
Balanced Scorecard Professional (BSP), BCS Enterprise and Solution Architecture Practitioner, BCS IT Governance & InfoSec Foundation, BPMN, Certified Project Management Practitioner (CPMP), Certified SOA Architect, CoBIT 5 Foundation, CoBIT 5 Implementation, EACO
Focus Areas
Enterprise Architecture, IT Transformation, Digital Transformation, Infrastructure & Operations, IT Governance, Innovation, Partner Management, IT Financial Management, IT Strategy, Application Portfolio Management, Cyber Security
Industries
Automotive, Banking, Energy & Utilities, Financial Services, Healthcare, Insurance, IT services, Public Sector, Retail, Telecoms
Skills
CIO, Enterprise Architecture, IT Strategic Planning, Business Architecture, IT Governance Setup and Management, Architecture Team Start-Up / Restart, EA Tool Selection & Standardization, Training & Education, Change Management, Software / Solution Architecture, IT Vendor Selection, Program & Project Management
Tools
Alfabet, Archi, Atlassian, Avolution, AWS, BiZZdesign, BMC, Erwin, IBM Rational, Mega, Orbus iServer, Pega, PPM tools, ServiceNow, Software AG / Aris, Sparx EA, Troux