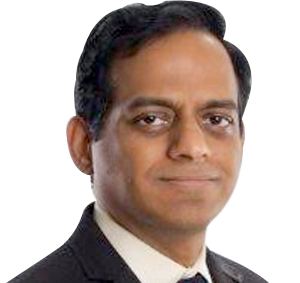 I had the privilege of working with Sriram in at a key information infrastructure program at Microsoft. He has one of the freshest minds in the industry and the talent to bring change quickly even in the most complex corporate environments. I also enjoyed his contributions to the information architects' community and his friendly, always approachable personality.
Ulrich Landbeck
Data Architect and Program Manager, Microsoft
It was my pleasure to have worked with Sriram during our days building Citi Transaction Services' flagship product – CitiDirect. His tireless effort along with his astute sense of perceiving the business needs was truly admirable. In an intense and dynamic environment, he architected and designed complex components of a global Payments and Receivables corporate banking Platform. He also possesses good communication skills and a pleasing personality – very comfortable in any tech/product discussion or a business forum..
Mitul Shah
Citigroup
Sriram Sabesan
ADVISER, CC&C SOLUTIONS
Sriram is a deeply experienced, hands-on enterprise architect with a global reputation for excellence. As an active contributor in The Open Group since 2010, he has contributed to development of several standards, snapshots and white papers.
Professional Experience
In the last 20 years Sriram has held positions at various altitudes at several Fortune 100 companies including Microsoft, Citigroup and T-Mobile. He has led many successful large-scale architecture initiatives.
A governing board member of The Open Group since 2016, he is also an active mentor / IT Architect for IASA Global.
Education and Training
Sriram holds BE (mechanical engineering) and M Tech (energy) degrees from Anna University in Chennai, as well as PG diplomas in Financial Management, Operations Management, Total Quality Management & ISO, and CMMI Implementation and Audit.
Technical certifications include TOGAF, IASA CITA-Professional, Open CA Distinguished IT Architect, Certified Scrum Master, and many others in areas such as AWS, Security, Google Apigee API platform and blockchain.
Publications
Sriram co-authored many of The Open Group's recent guides for Enterprise Architecture, and is a well-known writer on architecture topics. Some of his work includes:
Focus Areas
IT Transformation, Software Architecture & Design, IT Governance, Partner Management, IT Financial Management, IT Strategy, Application Portfolio Management, Business Process Management, Sourcing & Vendor Management, Business-Enabled Technology Strategy
Industries
Financial Services, IT services, Logistics, Manufacturing, Small to Medium Business, Non-Profit
Skills
CIO, Enterprise Architecture, IT Strategic Planning, Business Architecture, IT Governance Setup and Management, Change Management, Software / Solution Architecture, IT Vendor Selection, Program & Project Management, Integration Architecture, Process Engineering
Tools
Oracle DBMS, Oracle ERP, PPM tools